EVERYDAY 3 BILLION SOCIAL MEDIA USERS ARE ONLINE, WHY ARE YOU NOT INCLUDING SOCIAL MEDIA IN YOUR MARKETING BUSSINESS?
Over 1.3 billion people are connecting on Facebook; while 600 million people are tweeting. And Right now Google+ is using 200 million people daily. And still we can target a lot of other trending social media platforms!
We can help you build the right connections on the right social media platforms that bring your brand closer to your market. Through Social Media, you can:
Provide Instantaneous Customer Service
Engage Customers in Meaningful Conversations
Engage Visitors by having them Contribute Content
Put a Human Face on a Big Company
Provide Exclusive Offers & Discounts to Your Audience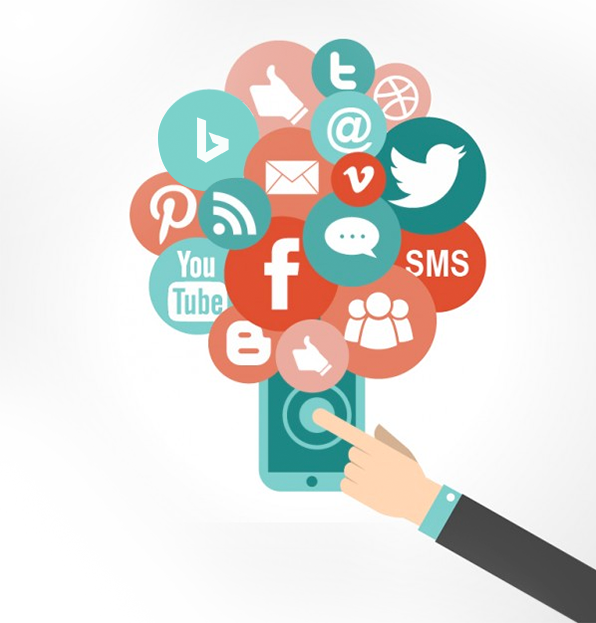 BE SEEN MORE ON SOCIAL MEDIA!
Our social media service can get you interacting, communicating and connecting with your target audience.

SOCIAL MEDIA AUDIT & STRATEGY
We evaluate the performances of all your social channels and come up with powerful improvement strategies for influencing the conversations and engaging your audience.

CONTENT DEVELOPMENT & PROMOTION
We help you create a buzz and widen your social reach through development as well as promotion of smart, crisp, useful, and highly interactive content.

MULTI CHANNEL INTEGRATION
Take advantage of our multi channel integration strategy for effective data integrations across all your social channels and connect with your target audience efficiently.

SOCIAL ADVERTISING
Impact your brand outreach, drive instant traffic to your website, and increase your revenue with steady, compelling and well-focused social advertising campaigns.

SOCIAL LISTENING & MONITORING
We consistently listen to and monitor social conversations around your interests to help you gain better consumer insights and discover potential opportunities.

ANALYTICS & REPORTING
Track your key social media metrics, measure your performance, and get complete campaign overview with our intuitive analytics as well as fully customized
reports.
Social Media Platforms
The Platforms We Love Using Everyday.






Why Social Media Matters?
The following industry statistics will help emphasize why social media is important.
Why Social Media Matters?

Stand Out
We start by creating a robust social strategy focused on your business goals while taking the marketplace, competition, buyer personas, etc. into consideration.

Create Fantastic Content
After strategizing, we develop useful, enticing, and interactive content by focusing on both context and form in order to build relationships with your audience.

Lead the Conversation
In the next step, we promote the content to your advantage and stretch the campaign out by LEADING the conversations instead of JOINING them.

Amplify It
After that, we utilize strategic content amplification techniques in order to break free of your network limitations and improve your content outreach radically

Measure It
The successive step includes measurement of both campaign-focused metrics as well as ongoing analytics to track the overall performance and find opportunities to gain from.

Keep it Real
Finally, we put our best efforts to keep all your marketing initiatives real and interactive by infusing your brand personality into our social strategies tactically.
Have Questions? Want to talk to an Social Media Expert?