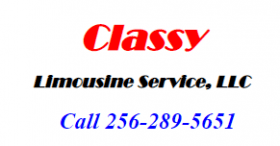 Classy Limousine Services is a Company that provides one of the best, quick, and safe Limo services in town. We have glamour, Luxury, shiny and comfor...
1228 Jordan Ln NW, Huntsville, Alabama, United States
Opened Now
Experience the Best in Limo Transportation
Pulling up in style is half the entertainment during a night out on the town. We care about appearances, but we also care about your safety. To curate the best limo service companies in Huntsville, Alabama we scouted for not only those limo service companies that offer the best quality of vehicles but also guarantee appropriate licensure and background knowledge on all their drivers so that you can not only enjoy your special occasion but, relax. Here is a list of limousine contractors that offer a range of services to their clientele, such as airport shuttle transportation, point-to-point, night-on-the-town, proms and homecomings, wedding packages, birthdays, and anniversaries. With a variety of limo options to choose from, you can cater to large or small parties and have a classy trip to the best night of your life. We made sure to check in on the limo companies that have a reputable background and have only had positive customer reviews. Enjoy drinks and light snacks on the way to the club or your prom. Show up in style and make a statement by pulling up in a luxury limo with the best limousine companies available in your local area. We promise that this will be a night to remember! Make your special occasion memorable by starting off with a positive transportation experience. Check out the most luxurious and comfortable options now!
How can I find reputable limo companies in my area?
You can find reputable limo companies in your area by searching "limo companies near me" on your browser. You can also simply go on CityLocal101 where local limousine companies that offer affordable prices and a variety of vehicles are available to view.
What should I consider when looking for limo Services?
When looking for a limo service you should look for great customer reviews because online references are great ways to figure out if a company is legitimate or not. You can also research their fleet variety so you can see if the limo rental company meets your party requirements.
What are some key questions to ask when renting a limo drive?
You should ask a limo driver: Do you provide wedding package deals? How skilled are your limousine drivers? Which limousine models do you have? How many passengers may ride in each kind of limo? What drinks do you have to offer? Should we sign a contract? Should the Itinerary be scheduled?