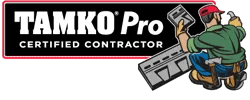 Richardson Roofing is a roofing company that provides roofing services under well-trained, licensed, professional, experienced, and expert roofing con...
3815 Free Ferry Ln, Fort Smith, Arkansas, United States
Opened Now
Residential & Commercial Roofing Services
What more could you ask for than family-run businesses that are bonded, insured, and licensed? Hire roofers in Fort Smith, AR, who provide that service nearby! We have them all right here, so you won't need to go elsewhere. By relying on us, you can locate and hire a qualified roofing contractor immediately and make replacing or restoring your roof a stress-free experience. We provide lists of roofing contractors that include family businesses that offer knowledgeable service, cost-effective solutions, and family-focused service. Your home's caretakers should be like family to you. At CityLocal101 the top-rated roof repair companies are all protected and supported by accredited agencies all across the United States so you know that you're being aided through professional care. These local roofers take the time to know your house and your family so they can meet up to all your standards through and through. We did the research so you couldn't take it from us! Contact one right away so you can get a free quote on your next roof repair. Hire a professional that will take as much care of your house as your current family does!