To hire a certified locksmith in Westminster MD, one must keep pegging away at it consistently. But with us, your struggle ends here as we are your saviors in town. For the convenience of the locals in Westminster MD, our expert team set itself to research and make this list of an emergency locksmiths that you can trust more than their competitors. We have created this list of best locksmiths in Westminster MD strictly on the merits of professionalism, efficiency, up to the minute skills, state of the art techniques, professional-grade tools, customized plans, reasonable prices, personalized solutions, qualified & experienced staff, maximum possible level of customer satisfaction, in-field experience, licensed & insured locksmiths, swiftness, and good reputation.
So, consult this list when you are required to hire lock replacement, lockout, and lock rekeying services. We have made sure that we give you the correct information about the most dependable 24-hour locksmith in Westminster MD.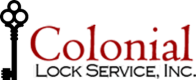 Colonial Lock Service Inc is a family-owned and-run locksmith business in Westminster, MD. Rely on us when you need comprehensive locksmith solutions...
436 E Main St, Westminster, Maryland, United States
Closed Now