San Diego is a place known for its cinematic and picturesque views, gorgeous and naturally maintained beaches, and family attractions like the world-famous zoo and safari park. The weather here is also pleasant which makes it a tourist paradise. In 2022 about 28.8 million people visited San Diego which shows how much people love to visit this city.
In a world of technology and googling everyone likes to do some research before visiting any place. Among the most googled searches by tourists, the best hotel search is at the top. Everyone has their own choices, likes, and dislikes when it comes to choosing a hotel to stay. But there are some common factors that most people consider before finalizing any hotel. These factors are quality services, affordable price range, location and aesthetics of the hotel, management of the hotel, hygiene, and peaceful environment of the hotel. There are 562 hotels in San Diego in total, based on the above-mentioned factors these are the best 5 Hotels in San Diego.
InterContinental San Diego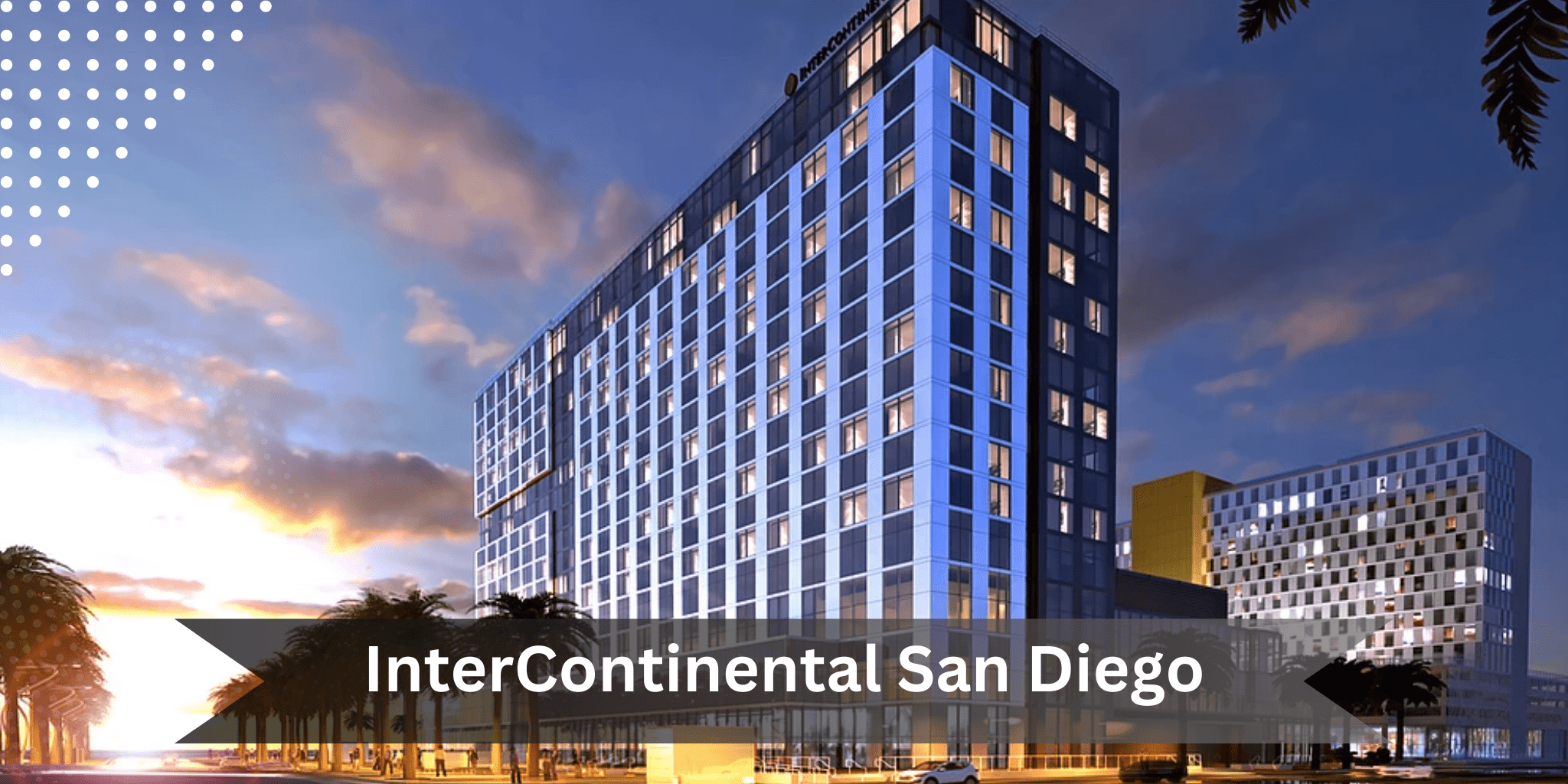 InterContinental San Diego is in Bayfront Ct, San Diego, CA! It has splendid 400 palatial rooms having bay windows to watch eye-catching San Diego Bay, has its own restaurant with delicious food, excellent 24/7 room service, a rooftop swimming pool, free wifi service, and not to forget extremely gorgeous pet-friendly rooms! The list of services goes on and on with other services including fitness and business centers inside the vicinity. The other aspect that makes it one of the best is the distance of the hotel from key locations like its distance from downtown San Diego is only 0.3 miles that a person can cover in a 10-minute walk. The San Diego International Airport is similarly 1.9 miles away which takes only 5 mins of a car drive. The nearby notable tourist attractions include San Diego Zoo, USS Midway Museum, Seaport Village, San Diego Bay, and Petco Park. This hotel is a choice for all types of tourists and contains almost everything in it which is why it tops the list in the search of best hotels in San Diego.
Rancho Valencia Resort and Spa

Rancho Valencia Resort and Spa is a beautifully constructed hotel known for its promising luxurious services. It is constructed in a large villa and has a bulk of space with tennis courts, a spa, a golf course for golf lovers, and a fitness gym inside it. It assures a peaceful environment and is a cure for anyone's anxiety and depression. The hotel has suite rooms in it. Offers games like bocce ball, ping pong, and other family-oriented games. It has fitness centers and yoga pavilions for fitness freaks and exercise lovers. It also contains swimming pools including an adults-only pool and a family pool. This hotel basically targets families, exercise freaks, and people who love sports. It is a bit costly but offers so much that the price tag justifies itself.
Fairmont Grand Del Mar
Fairmont Grand Del Mar is in Carmel Valley. It is among the best five-star hotels in San Diego. What makes it unique and a tourist choice is its great facilities including luxurious rooms, a spa inside, spacious furnished rooms having flat Tv screens and marble bathrooms, quality services, free wifi service, mannered staff, gaming zones for children, separate children and family pool areas, seasonal cultural nights, family movie nights, business centers, delicious food court, tennis court, and beach butlers driving you to the beach area and taking care of you. These are just a few examples of services with the bulk of services awaiting you. This one's for families and tourists who demand more options and quality in a single space!
Loews Coronado Bay Resort
Loews Coronado Bay Resort is a renowned name in the hotel industry in San Diego. It is built on cinematic Coronado Island. The specifications that make it worth it is its 440 luxury rooms with 40 plush suites, offers private balconies to enjoy the evenings, swimming pools with one specific for families, spa services to relax you, a fitness center for fitness freaks, free wifi service, excellent services by humbled staff, offering babysitting facilities for parents to let them enjoy freely, dry cleaning and pressing facilities for giving your clothes a new look, vast area for parking your vehicles, restaurants carrying delicious tastes, business centers for business fellows and bars for everyone. It is a good option if you are on a business trip and want to spend quality time and carry out your business dealings in a cool environment!
La Valencia Hotel
La Valentia, situated in La Jolla Cove, often appears in search results of San Diego hotels on the beach.It is a boutique hotel and carries businesses and shopping centers in its surroundings. The best aspect of this hotel is that you don't need any vehicle with you as everything you desire is within walking distance. The ocean can be seen from its rooms which are very satisfying views. It was built in 1926 and its rooms are beautifully crafted with recent renovations to them. For someone who demands privacy and a peaceful environment, there are iconic suites as well. Then comes the saltwater pool which offers a beautiful oceanic view and spa services for anyone who wants to relax. Not to forget free wifi and large tv screens are also provided. For visitors who are tired and cannot go to the restaurant area, they offer 24-hour dining services as well. This hotel suits the tourists who love nature, like a peaceful atmosphere, and loves listening to oceanic waves at night.
Wrap up:
Choosing a hotel is not a difficult task in this era of technology. The pros and cons of a hotel are well-defined on the website and anybody can review it with a little search. Public reviews are also one factor through which a person can choose a hotel. Based on the services, affordability, location, excellent management, cleanliness, and peaceful environment, the above-mentioned hotels are categorized. We have tried to simplify it to specific pros and cons considering which one can decide which hotel he must live in while having a trip or a business visit to San Diego. The hotel categories are on the basis of the versatility of being among the best downtown San Diego hotelsor hotels that are reliable and best suited for one's business or family tour.