The secret to people's hearts has always been food. Making a wonderful meal for someone is heartwarming and fosters community since it brings people together to share something they both like.
Many chefs abandon their aspirations because starting a restaurant may be pricey. It demands time and work. You not only need to have a thorough understanding of restaurant administration, but you may occasionally spend more on produce than you do on food revenue.
Be at ease, though, because we are here to inform you of the greatest alternative—running and owning your own food truck company!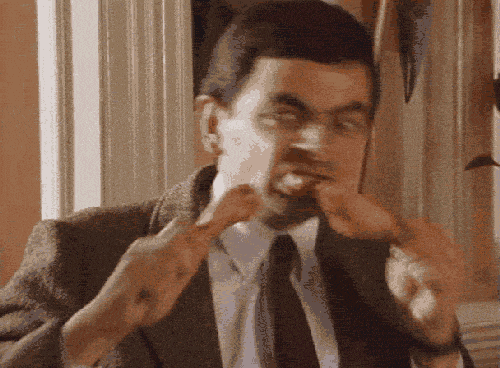 A food truck is an on-the-go mini fast food chain minus the interior sitting facility. A food truck is the best option for chefs who want to serve their specialties like tacos, pizzas, sandwiches, or grandma's secret ingredient cookie recipe without the hassle of creating and managing a restaurant environment. Think of them as limited-time vending machines operated by you, the chef. You'll interact directly with your customers and control all aspects of cooking, pricing, and distribution.
Lacking inspiration still? The story of Seoul Taco will change your mind.
They were able to start their own food trucking company. See how they achieved it and imagine your life as a food truck owner by following along. We'll fill you in on everything you need to know about starting a business, including potential salaries and day-to-day operations.
Seoul Taco's Success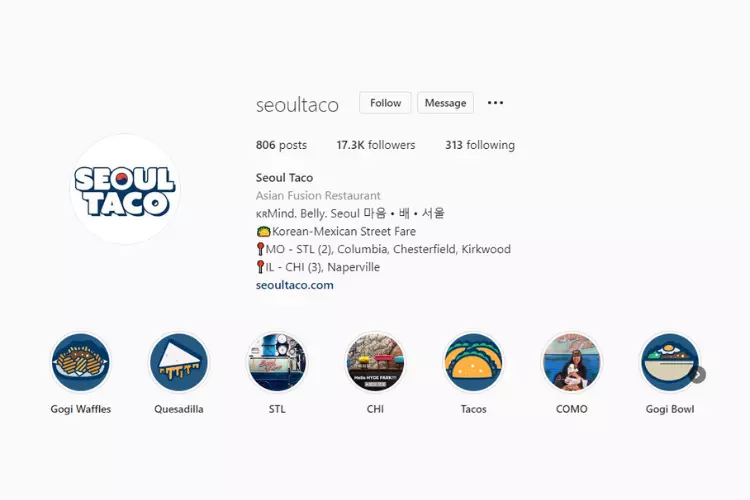 David Choi, the son of Korean immigrants, never really thought of himself as a business owner in fact he never knew what to do in terms of career. He describes himself as going with the flow when arriving at his passion for food.
However, he is a successful business owner of nine brick-and-mortar locations in Missouri and Chicago for his company Seoul Taco alongside his two food trucks (and counting). He hosts multiple events throughout the year for this St. Louis staple that combines fast casual Korean food with Mexican cuisine.
In reality his success came from a desire to improve his life. Choi tells Sauce Magazine, "'My parents and their friends came here with nothing. When you're growing up, you don't even realize the weight of that – how much people go through to open their businesses, to even see whatever success it is. Man, I see now how hard these people work, so I gotta work just as hard, if not more, to make it.'"
Choi graduated from Central Bible College in Springfield, Missouri in 2007 and began working in various minimum wage jobs including being a barista at Starbucks. He tells the Food Truck Operator that he was working 2 to 3 jobs just to make ends meet and by the time he reached his mid 20s, he had saved enough money to buy a new car. This was a turning point in his life; he discovered what it means to be successful through this big purchase. He realized he wanted to be independent and work for himself rather than succumb to the minimum-wage jobs.
It was finally at age 26 that he decided that he wanted to run his own business and he saw food trucking as a big opportunity because it did not require a lot of investment. 2011 is when he started his first food trucking business in St. Louis, Missouri. So how did he start?
Choi began doing his research to buy a food truck and eventually found one for sale in Washington, DC. He had roughly $18,000 in savings and bought a one-way airplane ticket expecting to drive home with his new truck and launch his business. He eventually found a 14-foot truck in Philadelphia equipped with a kitchen that was for sale for way more than he bargained for but, because he had the $18,000 cash on hand, the seller accepted.
When it came to food, Choi didn't really have a problem because he worked with something he already knew--Korean food. He wanted to introduce the Korean barbecue flavor to St. Louis. He recognized that there was a big market for Mexican food and decided to combine the two--" Korean Mexican fusion," he called it. He began sourcing Korean ingredients from local Korean markets in the rest from Sam's Club.
And the success came fast.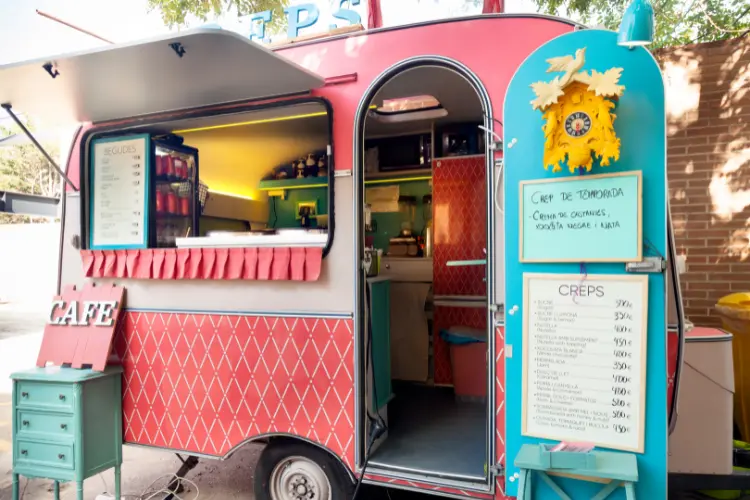 On day one there were about 30 to 40 people in line and he began serving food in a four hour food truck event in a public park assisted by employees and his family members. At the end of the day he served around 200 people. It took him only a year to open his own restaurant.
He promotes his food truck on his social media with nearly 20,000 Instagram followers along with his website named for his food truck business. Recently, he has expanded across Columbia, Missouri and Champaign, Illinois along with Chicago.
Choi has now rolled out a second food truck for St. Louis, where it all began. The truck will operate daily and donate all the proceeds from its Monday sales to the St. Louis MetroMarket to help aid the impoverished in the area.
However, Choi believes he still has a lot to learn, his business went from a solo project to now hoisting hundreds of employees. He says, "'Day-to-day's changed a lot. It went from being every role in the restaurant to now it's more coaching, leadership and instilling those practices from top to bottom. I would hope that every Seoul Taco has a reflection of my character and personality in it.'"
Choi prides himself on being able to propel a business filled with diversity and also aid the community around him. His wishes for the future include opening a third market and in Texas or Atlanta--there is no stopping for Seoul Taco's success.
How to become a food trucker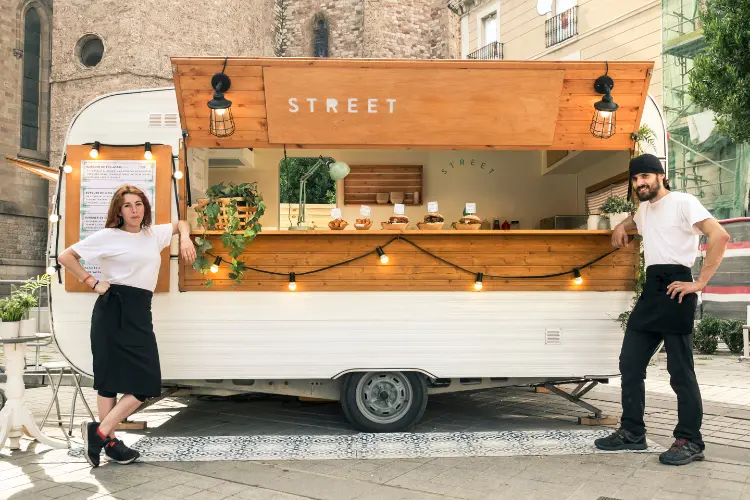 Write a business plan and register your business
Even though you might be anxious to start operating your food truck right away, you need first draft a viable business strategy. This entails considering your food truck company's long-term goals as well as the methods and marketing tactics you'll use to establish your brand. A plan is a terrific method to keep you on track and prevent confusion as you go through the process. You should conduct market research in your area to determine which meals are popular and which are not. Find out from other food trucking companies what they did to achieve prior success.
Here are some questions you should ask yourself:
Are you going to work with a team or conduct solo ownership and control?
Will you sell one kind of food or have a menu?
What days will you operate?
What marketing structures will you implement to stay relevant?
What is your budget?
Moreover, you also need to register your business as well as, register for federal, state, and local taxes. This means getting an employee identification number from the IRS.
Also, consider opening a business bank account after registering for taxes so you can separate your personal finances from your business.
Obtaining approval from the Board of Health and getting parking permits and other mobile food vendor licenses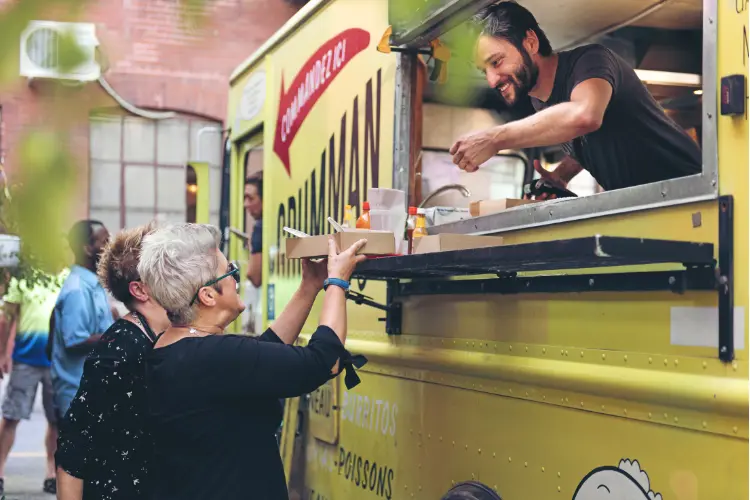 You must enter into a formal contract with the facility where you make and store your food in order to operate a food van. You are referred to as a mobile food establishment, so you will need a food truck permit and a health permit if you want to prepare and sell food, sell pre-packaged food, sell beverages, or prepare food in a way that requires potentially dangerous preparations like cooking, heating, etc. You will also need to produce a health division application, perform an inspection of your equipment and food plan, as well as your menu and consumer guidelines, in order to get these permits. Depending on the state you live in, you may need to pay for a health permit. To learn more, we advise you to visit the website of your local health department.
These are all the legal procedures that you must go through if you're starting out of business. Now let's get to the good part!
Curating a menu and food truck design plan
The next step is to develop a menu and create your food trucking business when you have completed all the requirements and received approval. Businesses operating out of food trucks are distinguished by a theme, an enticing design, and a distinctive cuisine that speaks for itself. A food van can be compared to a brand. You want to capture exactly what you're attempting to market through the vehicle itself since its reputation counts just as much as its setup. Additionally, you should plan a menu that allows for quick preparation or all-day access to prepared meals. The majority of food truck enterprises only serve one type of product and sometimes more since they often handle both administration and culinary duties concurrently.
Finding a truck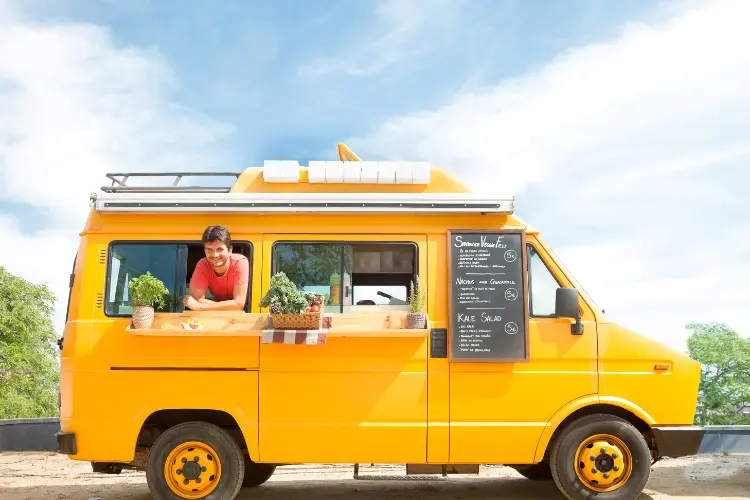 A food truck company may be financially rewarding, but the initial start-up expenditures, which include buying your truck, can be high. The cost of a food truck can range from $15,000 to as much as $100,000, depending on the style and brand you want to buy. Of course, you must also pay for fuel and the necessary licenses and permissions to operate your business. If you have limited resources, we advise you to negotiate with businesses who are selling food trucks that have been set up and configured for a lease or rental arrangement. You may start off with a cheap used cart or trailer and work your way up.
Insurance: $2,000 to $4,000 per year
Initial product inventory: $1,000 to $2,000
Commissary fees: $400 to $1,200
Permits and licenses: $100 to $500
Start marketing and promoting your food truck
If you want to become known, you must market and promote your food truck. The majority of food truck businesses set up shop in front of parks, schools, and other gathering areas where there is high foot activity, making it easy for customers to see them right away. However, it won't hurt to incorporate marketing into the mix. Your best bet is to establish a social media presence to advertise your food truck company. Make the food you are selling into a brand. You can start selling merchandise that is inspired by your company. Another excellent strategy to receive recommendations and spread the word about your business is to post fliers and give out brochures and business cards while you offer your food to consumers.
Perfect your day-to-day plan based on experience
Every company has hard times, so you'll grow as you gain more experience. Analyze how long it takes you to prepare your food and set up your truck and adjust your daily strategy based on how many people you are serving each day. By doing so, you may modify how you manage your time and be more ready for any potential customers. Examine your marketing strategy to evaluate what is and is not working. If you use your performance insights in conjunction with your business, you can maximize your truck food operation.
Life as a food trucker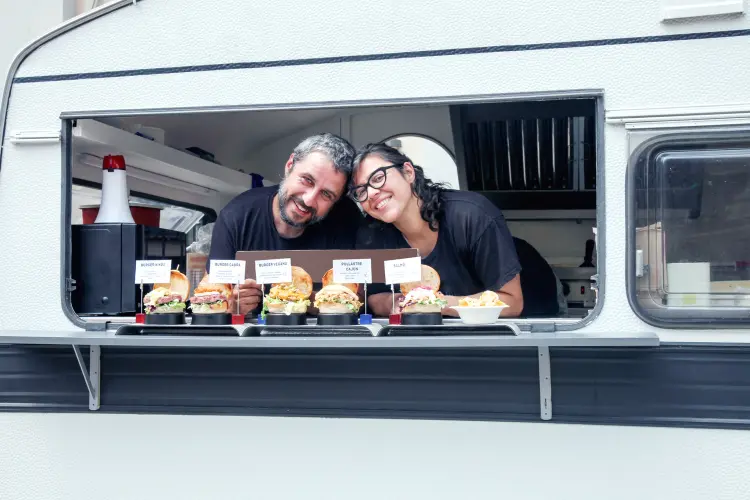 The day before your working day, you will spend at least 8 to 12 hours getting ready for the week, which includes going grocery shopping and preparing foods that will sell. Early in the morning will be when your actual working day starts. You'll heat the food, ensure that the menu is current, and make sure that all of your disposable condiments and other packing materials are on hand. The electricity generator that is linked to your vehicle and the water, propane, and waste water tanks must all be operational. If necessary, your truck will also be refueled during this time.
Then, depending on where you live, you will get to drive to the venue, which is generally a public park, farmers market, or in front of a club. You'll start preparing food, arranging utensils and serving trays, and preparing your vehicle to welcome clients.
Your shift can go as long as you want it to, but about 2 PM, mini food truck operators usually start disassembling and packing up their food for cleaning. After that, they clean their vehicle and get ready for the next day by going back to their commissary kitchen to load out food and supplies.
Problems and solution
Finding a Location
Finding a spot to park your truck is important since doing so in a place where there is little foot traffic or where your food won't sell well will prevent your food truck company from succeeding. Perform comprehensive research on the many sites that are accessible in your region and set targets depending on the demographic you have chosen.
Permits and Regulations
It might be challenging to get a permit and comply with local and state requirements. If you don't follow the local regulations for mobile food establishments, you might possibly be fined. Viewing your city's or state's online website, where they set out all the permissions and health rules you are expected to follow and receive before opening your institution, is the greatest approach to avoid this.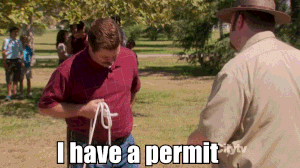 Inventory and Menus
Similar to running a restaurant, you must be careful about inventory and menus. You must keep your inventory in line with supply and demand. In the long term, buying too much food will cost you money since it will go bad and not be consumed. Consider your daily customer count while estimating the amount of groceries you'll need for the next week.
Creating a menu can be difficult despite the fact that we know you have mad skills when it comes to cooking! A menu should be concise and cohesive. A menu should tell the story about your company--what is a specialty that you're selling that food truck owner that others aren't? Your menu should also be aesthetically pleasing so when customers look at it at first glance their stomachs start grumbling! Work on menu descriptions and make sure that they describe the ingredients well.
Lots of responsibilities
A food truck owner has a lot of responsibilities when it comes to collecting payment, making the food, and managing the food truck as well as, driving to locations and dealing with customers. This can take a toll on you. For this reason, we advise taking part in a collaboration. It will relieve the burden of doing everything alone, as well as reduce the cost of purchasing the vehicle and first business financing. If this is your sole passion project then we recommend getting organized and developing a business plan.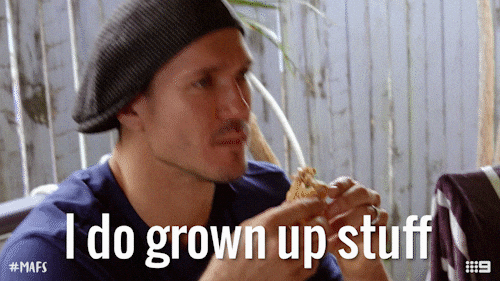 Fast Food Truck Facts collected from Zippia!
In 2021, salaries in the food truck business were $318 million of the 40, 547 and counting food truck workers in the United States. The industry for food trucks pays an average yearly salary of $38,064.
Of the big cities, Boston has the lowest rating for how simple it is for food truck owners to obtain necessary licenses. It also receives the lowest marks for the expense and work needed to keep up the permissions needed to keep functioning. Washington, D.C., San Francisco, Seattle, and Minneapolis round out the bottom five cities where running a food truck is often the hardest.
Food trucks have a 40% rate of success. After three years, 40% of all food trucks are still operating.
Salary
According to Toast, the average income of a food truck owner nationwide earns around $24,000 and $153,000 annually. For a lunch truck, the typical owner's pay is less than 50% of the revenue. In a tiny food truck, depending on how much work you put into the business, your wage may be a larger percentage of your profit. Conversely, as of December 7, 2022, Ziprecruiter reports that the average yearly wage for a food truck in the United States is $28,337, or around $13.62 per hour. This amounts to $544 per week or $2,361 per month.