Unleash your inner makeup artist by becoming a hair or makeup business owner! If you have ever dreamed of owning your own nail salon or hair salon, or even makeup business, you're in luck! In 2022 alone, the cosmetics sector will generate US $18.01 billion in revenue. Even more, the market is anticipated to expand by 4.55% in the coming years (Statista).
The door is waiting, you just have to open it.
Being a makeup artist or beautician is an extremely rewarding career. Not only will you get to do what you love—play with makeup on every day of the week and connect with people—you'll get to be your own boss while handling clients and fortifying your beauty business. What's better is that you'll play a huge role in the precious events of people's lives including making prom spectacular for youngsters and helping brides get their unforgettable wedding makeup!
If this doesn't excite you, the story of Anabelle Laguardia will inspire you. She is a professional wedding makeup artist based in New York City with a career of over two decades worth. She notes herself as providing "timeless beauty for the modern bride."
Follow along to find out about Anabelle's journey before she became a hit bridal makeup artist!
The Beautiful Career of Anabelle LaGuardia, Bridal Beautician
Just recently, Anabelle LaGuardia's makeup artistry announced their partnership with LimeLife by Alcone, a cruelty-free, consumer-friendly, professional makeup and skincare brand. Anabelle and her team have gone on to assist hundreds of clients in just the past year, building onto her already-established notoriety in the entire New York City area.
But before Anabelle LaGuardia rose to fame as a sought-after wedding and special event makeup artist, she started drawing inspiration from her mother at a young age. Anabelle and her mother have a very close relationship, and she always did Anabelle's makeup for her ballet performances, proms, and school dances. According to Laguardia, her mother's inherent talent and expertise for cosmetics served as motivation for her to launch a lucrative career in the field.
LaGuardia's early career started as an administrative assistant within the corporate office of Lancome during the day while attending make-up classes at New York City's Empire Beauty School at night. She graduated in 1999 and decided to join Laura Geller Makeup Studio in Manhattan's upper east side. Consequently, she worked there for four years before launching her business in June 2003.
Her training at the Laura Geller Makeup Studio propelled her to the top of the list of makeup artists for studio clients, makeup courses, weddings, and other special occasions, which launched her career. Learning from Laura Geller Makeup Studio built her into who she is as a makeup artist today and helped her launch her own makeup business, Anabelle LaGuardia Makeup Artistry. She provides on location makeup services to brides and clients all around the tri-state area and even destinations beyond.
Anabelle says, "My brides and clients trust and invest in me knowing I will help them bring out an elevated, modern, and timeless version of themself. My passion is connecting with women to help them look and feel radiant and special no matter what the occasion."
However, the pandemic of 2020 put a halt to her career since cosmetics stores and the whole beauty business were forced to stop offering beauty services. She uses her blog to provide advice on makeup sanitization and how the coronavirus has affected her job and shares how she has begun incorporating these components in her daily life as a makeup business owner.
Overall, Anabelle believes that the route to success in the cosmetics industry is lengthy and full of rigorous hard work. According to her blog, no matter how well-known you get in this field, you will always need to network for new opportunities. Laguardia states, In the early-going, you might have difficulty striking a balance among the needs to assist established makeup artists for experience, to continue your education so that you may perfect your craft, and to pay your rent and bills. If you're not one to dedicate yourself to the hustle, this career is not for you."
The best advice she can provide is to not be hesitant to ask questions or seek assistance while pursuing a career as a make-up artist, as she says it will be the most challenging and rewarding experience of your life. In the beginning, you could feel discouraged and frustrated, but all successful businesses take time.
What abilities does a makeup artist require?
Being a makeup artist or hairdresser requires more than just beautician training; you also need to be adept at listening and communicating, stay current on the latest beauty trends, be able to remain calm under pressure and work under tight guidelines, be skilled in a variety of makeup techniques, and be adaptable because you'll be working with a variety of clients. You may put these skills to use and improve them in the following ways:
Determine the most effective, time-efficient way to accomplish the customer's requirement after listening to what they have to say.
Make use of the expertise you've gathered from makeup courses and constantly learn more from tutorials
To reduce stress and become more organized, work in a tidy atmosphere and thoroughly clean your workspace after each cosmetic session.
Provide excellent client service to make the greatest impact you can for your own business.
Responsibilities as a makeup artist
Depending on a variety of factors, makeup artists' basic routines might differ. There is therefore no average amount of hours you will work each day. You could be extremely busy one day, then only for the morning the next.
Nevertheless, there are clear duties you'll be working on outside of taking your makeup clients.
Arranging and carrying out client appointments
Scheduling follow-up meetings
Responding to emails and phone calls
Working on your makeup techniques
Updating your company's website and keeping active social media profiles for your business
How to become a makeup artist
Obtain certification and licensing
Certification will provide you with the skills essential to operate to the highest level possible. You'll have a better understanding of how to set yourself apart from the local competitors, which will improve your ability to book work and attract more clients. Additionally, you'll learn how to establish your brand and start a successful business. Overall, certification courses prove a makeup artist's proficiency in a skill area and is often obtained by learning, practical training, and successfully passing an exam.
Regarding licensure, each state has its own regulations. each of which requires you to pass a test. However, you don't need a license to practice as a makeup artist in many states. While some just need that you finish a certain amount of training or study, others demand that you earn a cosmetology or esthetician license. Therefore, it is probable that you will pursue an esthetician license or a cosmetology license if your state permits so.
Build your makeup portfolio by gaining real experience
Your cosmetology portfolio exhibits your ability and ingenuity. Use eye-catching images to promote your work by taking professional photos of your client's makeup. Create a portfolio as soon as possible and add it to your LinkedIn page. If you haven't had any experience doing makeup on others, you can always take photos of your own. But, we do recommend offering services to friends and family to get experience working on others and to put genuine client testimonials on your portfolio.
Consider working at a cosmetics counter to obtain expertise
Apply for jobs at drugstore or departmental outlets. You'll get the chance to test your abilities on a large number of individuals with various skin tones, fashion tastes, and standards. To obtain expertise, many makeup artists work at Sephora, Ulta, or MAC. However, instead of concentrating just on earnings, look for a company that is committed to teaching its staff how to apply makeup.
Market yourself online
Whether you are looking to work at a salon or as a freelancer, you should market yourself online particularly through social media. You can do this by posting high quality pictures of your work and even makeup tutorials and reviews. Makeup is a thriving niche in the world of social media and you can gain a following quickly by keeping up with trends and reviewing/collaborating with notable makeup and skincare companies.
Begin freelancing
Freelancing as a makeup artist will be a highly profitable and adaptable career. As a freelancer you'll travel with your makeup gear from different locations and meet a variety of people.
People frequently employ makeup artists when getting ready for photo sessions of bridal and engagement parties, celebrations, graduations, and more! Make use of word-of-mouth to market your skills. Encourage your friends and relatives to hire you to do their cosmetics for special occasions like weddings and celebrations. Give out business cards at appointments so that your clients may recommend you to others. Your freelance makeup artist business will soar if you combine effective marketing with customer retention!
We advise you to collaborate with a beauty shop as well. Find local beauty salons that are recruiting and visit them with your portfolio and a résumé outlining your skills and credentials. Here, you'll network with many local customers and build your reputation.
The Ups and Downs
Bad Products and Tools = Bad Results
To be a successful makeup artist you will need to be updated on the best makeup tools in the industry. Makeup and brushes of poor quality can give the appearance of shoddy work. You should conduct research on the products that are most effective for various skin types if you want your work to seem as it should, which is beautiful and of high quality. For a varied range of clientele, you should also have a number of shade ranges available. It's not necessary to spend a lot of money because there are inexpensive drugstore goods that are just as effective as expensive cosmetics, but in general, using high-quality equipment ought to be the standard practice in your line of work.
Inconsistent Makeup Results
If you're working as a professional makeup artist you need to make a name for yourself as a reliable professional. You will be working on faces that are going to attend some of the biggest events of their life--so you have to not just be good but great! That is why you should maintain consistency when it comes to makeup. While it's not necessary for your job to be flawless, it should be consistent. To develop your profession and learn how to utilize your makeup products most efficiently, we advise practicing outside of work.
Unsatisfied Clients
As it relates to any service or artistic industry, you will face disappointments and criticism. Even though you may think your work is flawless, occasionally clients won't be happy with the makeup results. At this point, all you can do is acknowledge that any career will come with difficulties, and that these difficulties only serve to strengthen us and teach us. It is an opportunity to improve your talents rather than call it a failure. If you ever have a customer who is dissatisfied with the makeup results, you should offer all help necessary to make the result exactly what they desire. By doing this, you'll be able to keep your customers' loyalty and maybe even increase their level of satisfaction due to your superior customer service.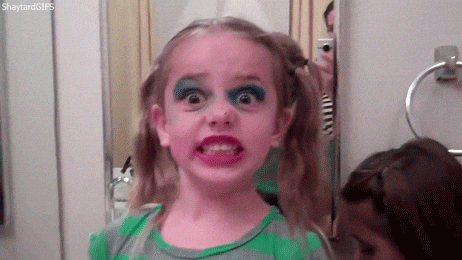 Fast Facts: The Stats of the Makeup Industries
According to Zippia, bachelor's degrees are the most commonly held by makeup artists, making up 41%. An associate degree is a close second with 22%, while a high school diploma comes in third with 21%. Additionally, Zippia gathered over 16,193 makeup artist resumes and discovered that the typical makeup artist loves working at their job for 1-2 years for a proportion of 30%.
American males spend an average of $2,928 year on aesthetic services and goods, compared to $3,756 annually for American women. The top three expenditure categories are hairdressers, cosmetics, and skincare.
50% of the population—or 20 to 30 years old—represents the average age of independent makeup artists.
Salary
Particularly if they work in the beauty or media industries, makeup artists can make a very comfortable living. In this business, profit margins typically range from 40% to 80%.
As of November 23, 2022, the average Makeup Artist pay in the United States was $22,429, although the average income range is between $19,823 and $25,865 according to Salary.com. On the other hand, Talent points out that the typical makeup artist's wage in the USA is $39,000 per year or $18.75 per hour. Most experienced professionals earn up to $69,300 per year, while entry-level roles start at $31,200.