The Pros and Cons of Laminate Flooring
The type of floor you choose to install in your home can determine the entire vibe of the space! If you are going for cozy, you may choose a nice warm, beige carpet or for a more sleeker and modern option, laminate flooring, the trendiest wood flooring option for 2022, could be what you prefer.
In fact, most of Home Improvement contractors recommend laminate flooring due to its many advantages. However, we understand it's a big decision, that we have listed laminate flooring pros and cons to make your choice easier.
But first, here are some quick details you should know about laminate flooring.
What is laminate flooring made of?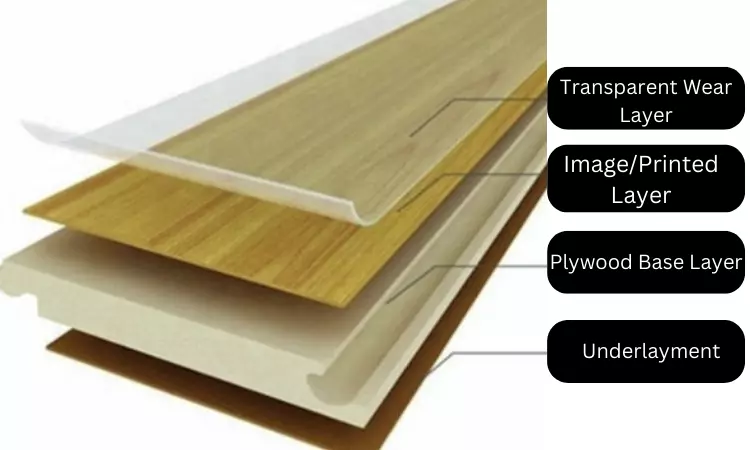 Laminate is a type of multi-layered manufactured flooring. It is intended to resemble genuine wood in texture. Melamine resin and fiber board are generally used in the production of laminate flooring's sublayer. It is made of flexible, compacted wooden planks with a fiberboard basis and a repeated imprinted impression of oak bonded to it. Another factor to keep in mind regarding laminate flooring is that it is composed of fiberboard with an outermost surface of epoxy rather than being made of plastic. As a consequence, the natural wood materials used to create laminate don't lead to the destruction of existing trees since they are solely taken from sustainable lands.
How much does laminate flooring cost to install?
Depending on the thickness of the flooring, the cost to install laminate flooring typically ranges in price from $3.00 to $12 per square foot, the average being $4.05. You will also have to provide $5 to $10 per completed square foot for labor and installation, based on regional pay rates. The national average for laminate flooring installation is $2,879. Prices can range from $1,400 to $4,616.
Overall, the cost discrepancy is related to the kind of coating, the durability grade, and time it takes to install. Luckily, depending on the dimensions of the room, a flooring project can be finished in a short amount of time thanks to the simplicity of installing laminate flooring.
Laminate wood flooring ideas
1) An easy-to-clean kitchen:
Laminate wood flooring not only looks amazing in a kitchen but can upgrade it to become easier to clean. Since laminate flooring can be cleaned up with a mop wet in warm water and a mild cleaning agent, you won't have to worry about spills any longer. Even better, find a laminate flooring that compliments your cabinetry.
2) Cosy and tidy guest bathroom:
Guest bathrooms are typically smaller than the normal because it's generally for in and out use. Even though guests won't be spending too much time in there, it's best to leave a good impression. Your bathroom can be transformed with the use of laminate flooring. Laminate flooring takes away the muddied look of grout tiling and provides for quick cleaning.
3) Modernize your bedroom:
Upgrade your bedroom to look more modern with a dark laminate wood flooring installation. Top it off with a warm colored rug to make it snug and cushy! A bedroom should pose as a relaxing space with an underlying intimate mood. Bring just that with laminate flooring!
Pros of laminate flooring
Here are the advantages of laminate flooring:
1) Installing laminate flooring is easy
Laminate flooring installation is rather simple; if you watch enough DIY installation tutorials, you can even do it yourself without hiring a professional. If you want to conduct the laminate flooring installation yourself, we advise beginning at the left corner of the room's longest wall and laying the boards in the same direction as the primary light source. It takes a bit of time to complete, but if you have the necessary tools, you can do it yourself. However, hiring someone to install laminate flooring is also a cheap option if you do so.
2) Affordable
Laminate flooring is less expensive than genuine hardwood floors. Given that it is constructed of composite wood that has been heated and pressed together, it resembles the actual thing almost exactly. For a small cost, you receive an opulent appearance. Now you can call that a steal!
3) Robust
If laminate flooring is properly maintained, its lifespan might reach 10 to 15 years. Furthermore, laminate flooring's composite timber substance makes it impact-resistant, and because of its UV resistance, the appearance won't diminish over time. The topmost layer, consisting of resin or epoxy, provides toughness. For places with a lot of foot activity, laminate flooring is fantastic.
4) Beautiful appearance
It goes without saying that laminate flooring is a beautiful option for your home, which is its main benefit. Hardwood flooring looks classy but real wood is just too expensive. Distinctive imprinting on the laminate floor planks gives them the illusion of real wood at a fraction of the price.
5) Simple maintenance
If you're sick of scraping the grout from your kitchen tiles, think about investing in laminate flooring, which is simple to keep clean. If there is dirt and dust littered all over the floor, use a vacuum cleaner. For spills and stains, a microfibre cloth works best.
Cons of laminate flooring
Here are the disadvantages of laminate flooring:
1) Cannot be refinished
Laminate flooring cannot be sanded down since it is made to resist wear. If you try to sand down laminate flooring, you'll expose the underlying photographic layer and ruin the floors' look. This is where natural hardwood flooring has its own advantage because it can be refinished however, laminate flooring does not have this feature.
2) Not moisture-proof
Laminate flooring is prone to the effects of moisture that is why it is not a suitable option for a laundry room. You also cannot use cleaning materials that are harsh. When cleaning you should use a little amount of water and avoid saturation.

3) Costs more than a good old carpet
Although laminate flooring is cost-effective, it is more expensive than installing a carpet in your home. If you truly desire the hardwood look, then this might not be an issue but if you're weighing your options you might consider costs in comparison to carpet.
4) Warping
You read that right! If laminate flooring is exposed to heat or not acclimated properly, the flooring can warp and cause abnormal curves--not only wasting your money but also, giving your floor an odd look.
Conclusion
Now that you know everything you need to know about laminate flooring, the choice is yours. Ultimately, laminate flooring sits in the middle of carpet and hardwood floors.
The thing to keep in mind is what you look for in your home to give. Plenty of people have laminate flooring in their homes and for them, the pros outweigh the cons--they prefer focusing on the beauty of laminate floors than overthinking the tedious installation process.
All in all, every option will bear some manoeuvring so choose wisely!