The best part about the summer, sun is soaking up all that heat in gentle waters right at home. But more than being a getaway, swimming pools can spruce up any backyard. By implementing a functional and creative pool, you'll bring life onto your property through a mixture of pool design shapes, plants, and lighting.
Dive into the best swimming pool design ideas of 2023!
Inground swimming pools
Inground swimming pools are the most popular option for homeowners because they require less maintenance and are on the lower side of installation fees. Here are the best inground swimming pool ideas:
1) Fibreglass Pools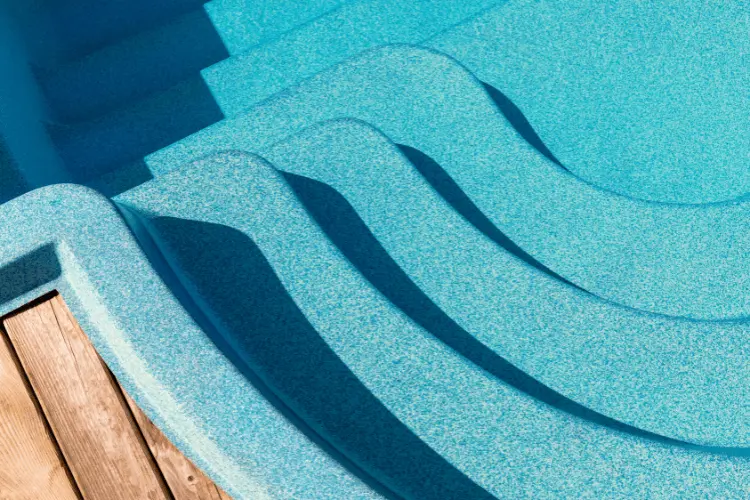 A fibreglass pool is constructed with a reinforced fibreglass shell that is coated in protective gel layers. The shell is built off-site and set up in a single piece.
Pros
Cons

Fibreglass swimming pools are highly durable. They last you up to 50 years if they are well-made.
They have lower maintenance costs and also resist algae growth, requiring less time and effort on maintenance.
They don't require acid washes because of their smooth surface.

When it comes to design you can only choose the surface color and add-on for your fibreglass pool, however, you will not be able to create a custom shape or choose pool size and depth as they can't be wider than 16 ft or so.
They are more expensive to install than the cheaper alternative, Vinyl pools.
Fibreglass can't be resurfaced and finely painted for small repairs because the color won't match as they fade over time. If you're very specific about your shades matching then, this is a tedious problem!
2) Vinyl Pools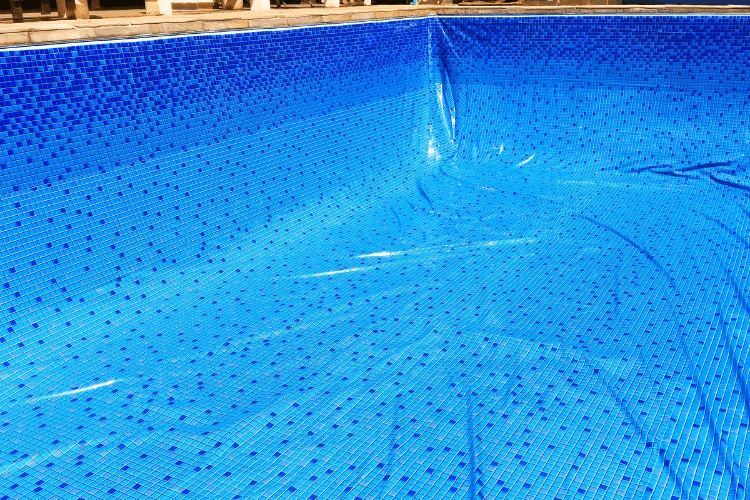 With vinyl lining, the water is separated from the pool's walls and floor by a specially constructed vinyl covering.
Pros
Cons

Vinyl pools are considerably less expensive to install than fibreglass pools.
They can be designed in many different ways and have a gorgeous look with the proper design elements.
They are smooth to the touch and have a consistently fast installation time with replacement being simple.

Vinyl liners need to be replaced every ten years.
Considerably greater relative expenses than swimming pools made of fibreglass.
More prone to algae formation than fibreglass, however, with proper pool maintenance, algae can be eradicated or avoided.
3) Concrete Pool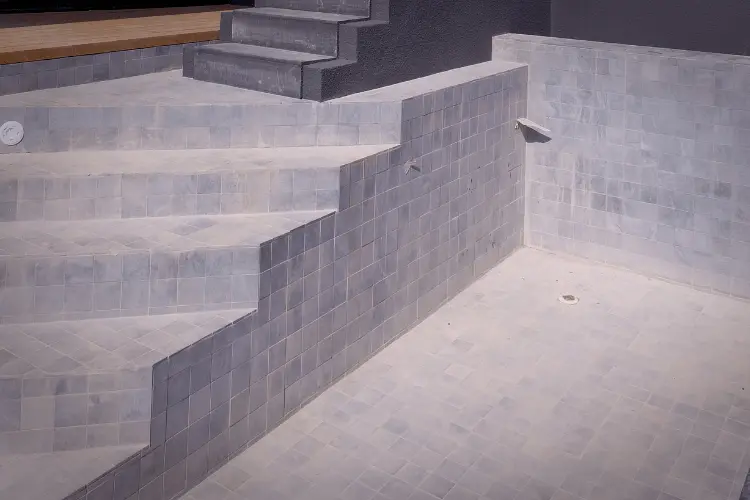 A concrete pool shell is formed by pouring either gunite or shotcrete. Water, cement, sand, and stone or gravel are the main ingredients of the concrete itself.
Pros
Cons

Concrete pools are highly customizable and can fit in any design element that you please—whether you want to add an additional staircase or make a unique shape or design. But know that the bigger the pool, the more installation and construction costs are going to be.
Concrete pools are similar to fibreglass in the sense that they are extremely durable and will last you a long time.

These pools have a long process and require a lot of time and money to install.
Concrete has a rough surface and therefore requires high maintenance and frequent refinishing.
4) Lap Pools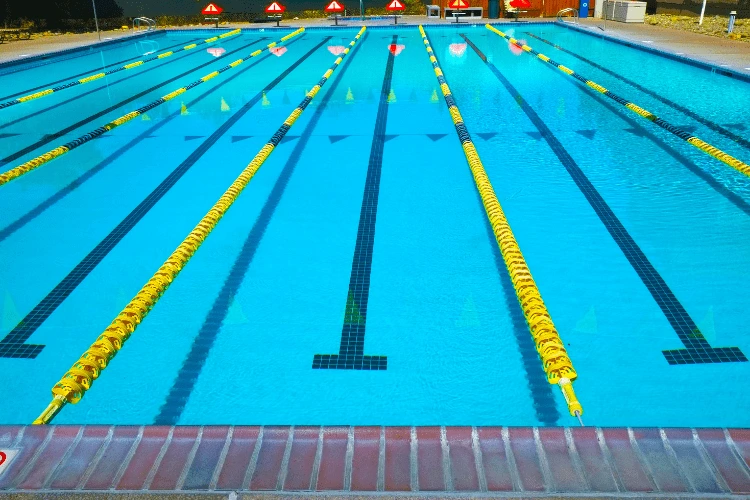 Lap pools are designed for swimming as they are large, rectangular and long. You can also use your lap pool for leisure and recreation since most lap pools come with a sizable, comfy lounge area.
Pros
Cons

A great addition to your property value because of how appealing they are.
Perfect for homeowners with a lot of guests and parties.
Since they are more narrow, lap pool cleaning offsets maintenance is involved in larger pools.

Requires a level surface for your pool and is only ideal for big backyard spaces. Moreover, the design process itself can take some time.
Costs are typically high despite how narrow they are—a consideration if you are in search of a more versatile and less expensive pool option.
Above-Ground swimming pools
For homeowners who are looking to spend more leisure time outside in their backyard, an above-ground swimming pool makes for a great intimate space where you can host your friends and also enjoy some relaxation away from the closeted indoors. Here are the best above-ground swimming pool ideas:
1) Infinity Pools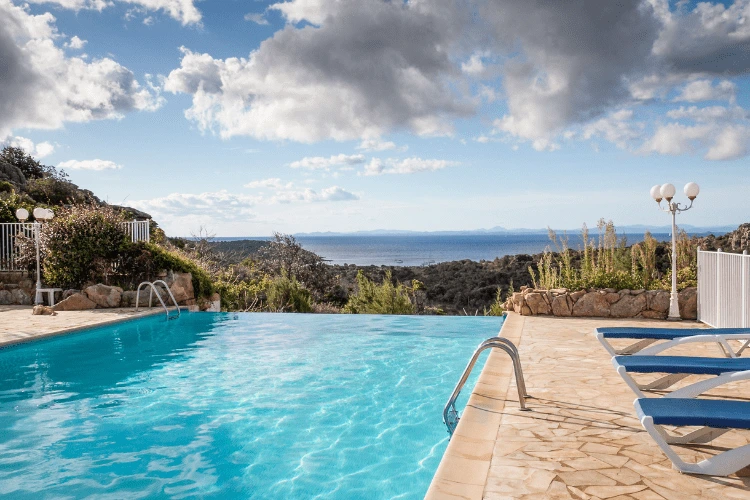 The term "infinity pool," often known as a "zero edge pool," refers to a reflecting or swimming pool where the current falls over one or more borders.
Pros
Cons

Infinity pools are popular in cities because of their natural noise barrier function as they spill over into a kind of waterfall.
Aesthetically pleasing as well as adding continuity to your space.

Infinity pools are mainly placed where there is a view otherwise, there is no point to them. You'll mainly opt for them if you live in the top floors of an apartment or penthouse.
Not only do they require a lower pool but also a collection tank, therefore costs for infinity pools are steep.
2) Plunge Pool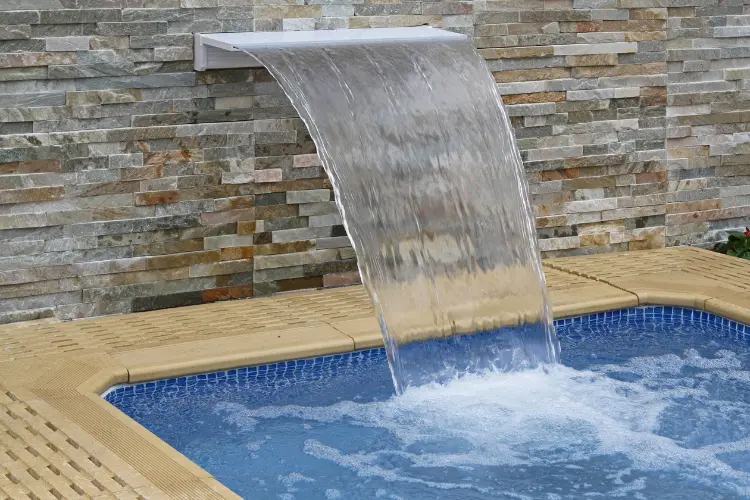 Plunge pools are made for lounging and rehabilitation rather than actual swimming. A plunge pool has a depth of 5 ft or more.
Pros
Cons

A cold plunge pool can aid you in seeking pain relief and is ideal for those looking to engage in low-impact water exercise/hydrotherapy.
Jacuzzi and swim jets can be installed as an additive function.
They use less water and are easier to clean.

Aren't ideal for swimming because the size is limited.
The depth of the water is dangerous if you have kids or pets
3) Salt Water Pool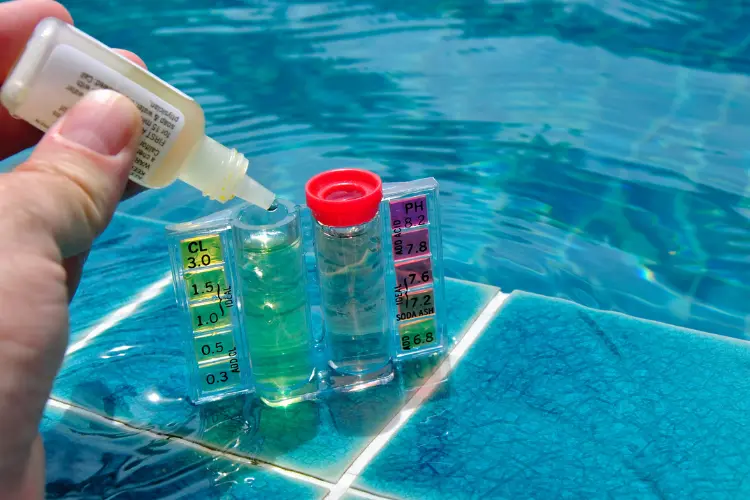 A saltwater pool is a swimming pool that produces chlorine from huge quantities of salt using a saltwater chlorine generator. Saltwater chlorine kills germs and algae and oxidizes dirt and chloramines in the same ways that regular chlorine does.
Pros
Cons

Saltwater is better for your skin, eyes and hair and has less damaging effects than chlorine.
Saltwater pools require less maintenance for cleanup.
4) Spool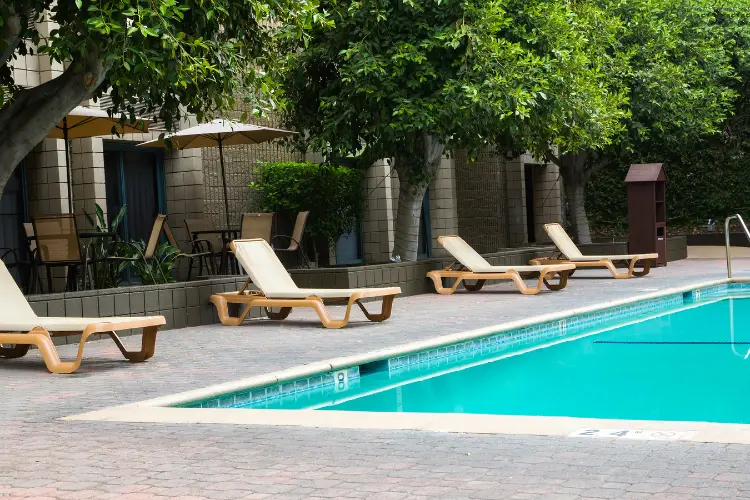 A spool is a smaller pool with additional spa-like amenities. Spools, which are typically 10 to 16 feet long and 6 to 8 feet broad, are perfect for small areas or intricately designed patios.
Pros
Cons

You can adjust the temperature on demand therefore, spools are functional all year round.
Ideal for a quick exercise.
Fast and economic installation with affordable maintenance.

Utility costs for heating
Spools are really small so they can't fit large parties.
Can be a nuisance if you don't plan the functionality of your space alongside your spool.
Outdoor swimming pool ideas
Swimming pools don't just have to be for running laps, they can be for rehabilitation and lounging. Here are the different options for outdoor swimming pools with distinctive therapeutic features.
1) Natural Pool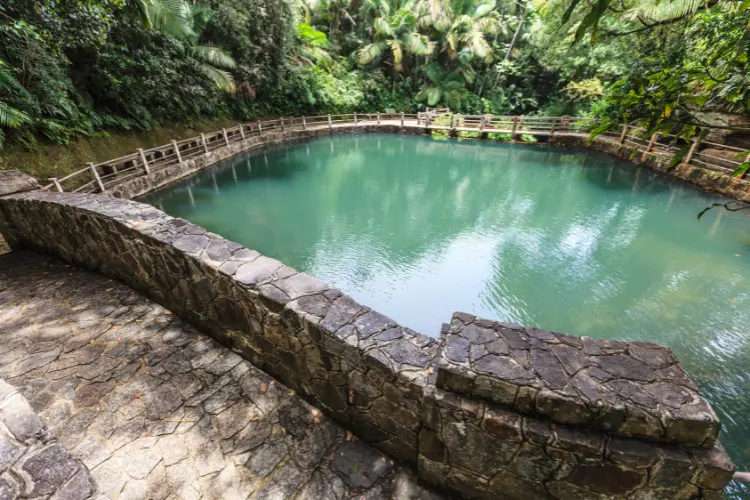 A natural swimming pool is a recessed pool of water that performs without the need for chemical compounds.
Real natural swimming pools have a self-cleaning ecosystem inside or around that keeps the pool hygienic.
Pros
Cons

Natural pools adapt to all climates
Requires less labor and time on cleaning with year-end costs
Environmentally friendly.

Natural pools can't be built by just any contractor. They require a specialized builder who can design and create the pool.
The initial cost of building a natural pool is higher.
They aren't clear like conventional pools.
2) Swim Spas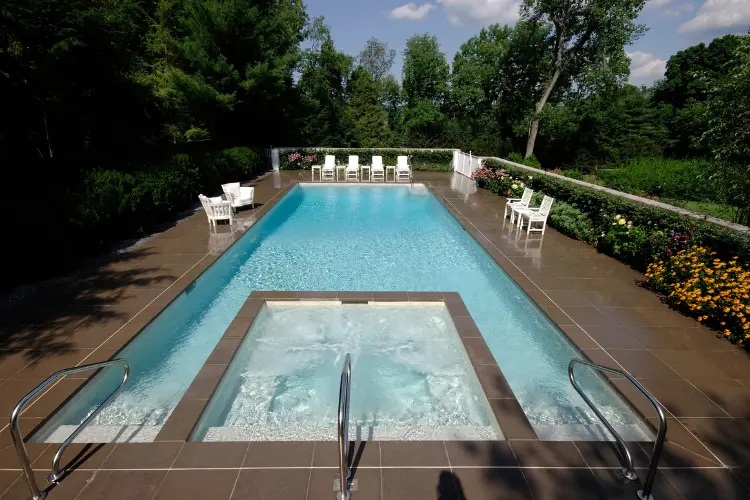 A natural swimming pool is a recessed pool of water that performs without the need for chemical compounds. Pure natural swimming pools have a self-cleaning ecosystem inside or around that keeps the pool hygienic.
Pros
Cons

You can use swim spas year-round due to their ample heating system
A swim spa with a controlled filtration system will lower the energy required to keep the water clean.

Limited swimming with sometimes labored swimming due to high currents
3) Hot Tubs & Spas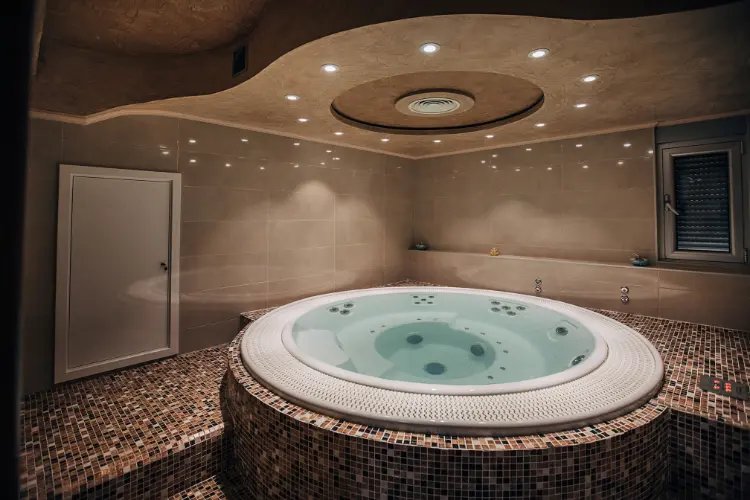 A hot tub is a combination of a bathtub and a swimming pool, used primarily to socialize.

Pros
Cons

Regular hot tub use may have a number of health advantages, including increased sleep, pain reduction, and stress relief.
Can add immense value to your property.

Upkeep can be difficult
Expensive for an initial startup as well as continuous utility bills.
Indoor Swimming pool Ideas
1) Indoor lap pool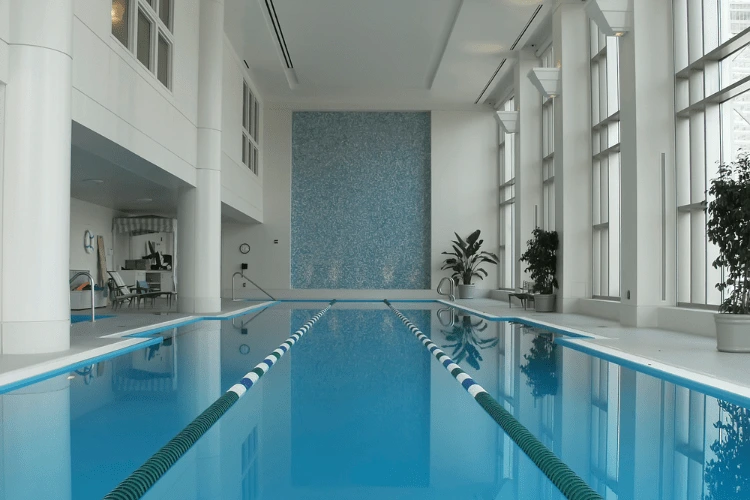 An indoor lap pool is the same conceptually as an outdoor lap pool but is implemented in consideration of the indoor space.
Pros
Cons

Privacy with year-round access
Low maintenance cost because of indoor protection
Less chemical use is required.

Accumulate high levels of moisture and humidity
Despite being the same size as an outdoor lap pool, costs run higher to start up an indoor pool.
2) Metal framed glass fenced pool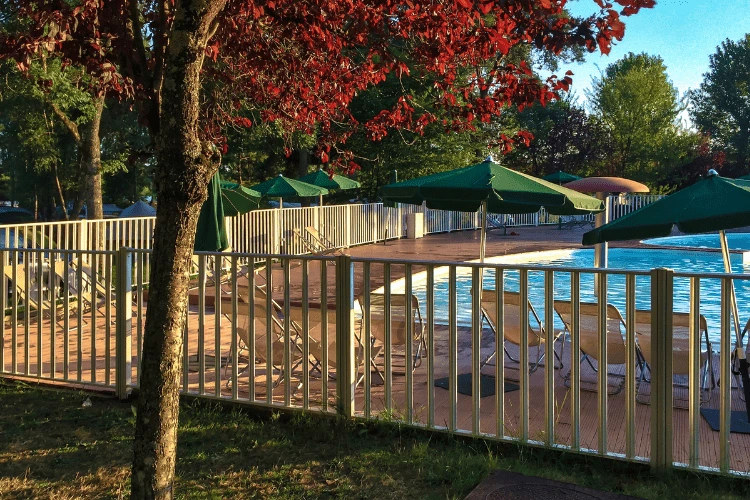 A pool is enclosed in a glass framing that surrounds the perimeter of the pool.
Pros
Cons

Glass framing gives an elegant look to your pool
Glass fencing is an investment that raises the value of your home. It turns any balcony, patio, or deck into a stylish centre point.

More expensive along with any repairs in case the framing cracks.
Glass fences can't be modified therefore installation may be tricky to nail.
Modern small pool ideas on a budget
1) Lighting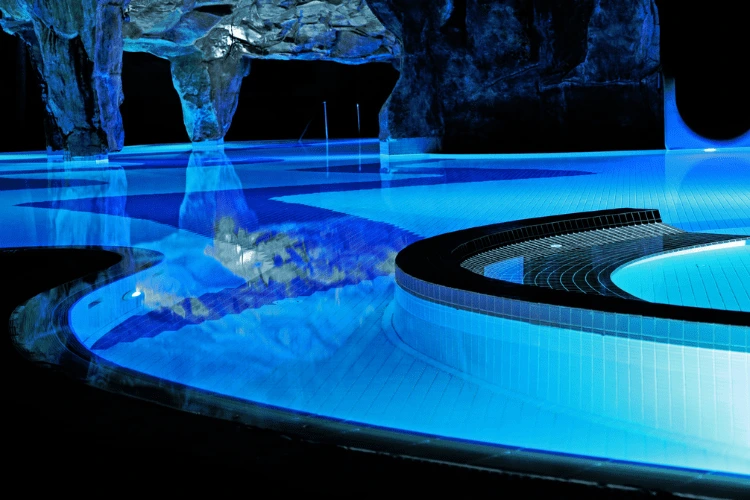 Lighting can change the entire look and feel of a space. Add colorful LED lighting for parties and late-night swims or adds small yellow-tinted beams for a more romantic and intimate feel.
2) Garden plants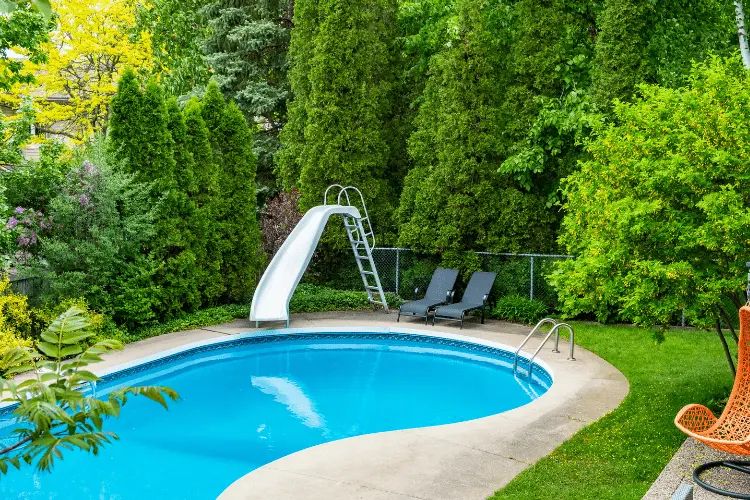 Garden plants can fill up an empty backyard and make it seem more lively. Add plants and decorative rocks to the perimeter of your pool to elevate the aesthetic and create a faux natural pool.
3) Pool Accessories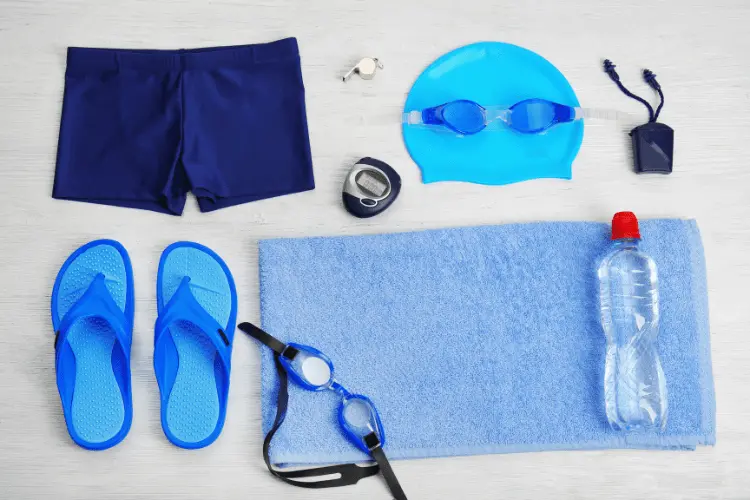 Despite the common knowledge that pools are an expensive installation, they can end up looking cheap without accessories. Pool accessories like floaties and pool slides can make a drab pool seem like it has way more features than you initially bargained for.
The Right Way to Clean a Pool
Cleaning a swimming pool can be a daunting task but there's a clear-cut process that you can use to make sure your pool is squeaky clean for your next swim!
1) We've got a floater!
The first thing you'll want to do is make sure that the debris littered in the pool water is taken care of. Floaters like bugs and leaves from nearby plants and trees should be swept up using a leaf skimmer. This is essential as this debris can collect and eventually sink, creating a bigger hassle. Afterwards, the pool grout and tiles should be scraped alongside any surrounding areas of algae and dirt using a soft-bristled brush.
2) Vacuuming
Vacuuming the remaining debris comes afterwards and this can be done with the help of an automatic vacuum that operates as a smart tool, doing the work for you or, a manual vacuum that needs to be submerged and hooked to the filter. You should vacuum the bottom of your pool while also simultaneously moving across overlapping lines, ensuring you suck up all the remaining debris.
3) Filtration is key
After you're done vacuuming, you should check your pool filter. Although this should be done weekly so that you can prevent any debris from building up. Backwash the pool filter according to your pool manufacturer's requirements.
4) Regulation and chemical treatment
Lastly, to ensure that your pool is functional you should add chemicals that are suited for your pool water that will help disinfect and control the growth of algae and bacteria. Pools need to have chemical treatment almost daily to regulate dirt and bacteria growth.
Conclusion:
No one wants to soak up the hot sun in the summer with no place of getaway—pools are a great way to enjoy the summer heat and spend time with family in cool, refreshing waters. There are many different options for you to implore on your property, it all depends on your requirements regarding your backyard or patio design. We recommend you contact a pool contractor near you to receive professional advice on how you can take your backyard layout to the next level and choose a pool that works best for you.
Overall, keep your pool's pump and filter system constantly circulating. This system is there for your benefit to continuously ensure that the water is filtering out gunk and keeping the water clear. Added measures like snipping trees can be taken to prevent leaves from falling and pest control sprayed on the fringes of the backyard to keep mosquitos and other critters at bay.
Your pool's health is ultimately yours so keep it sanitized, no one likes swimming in muddy waters!